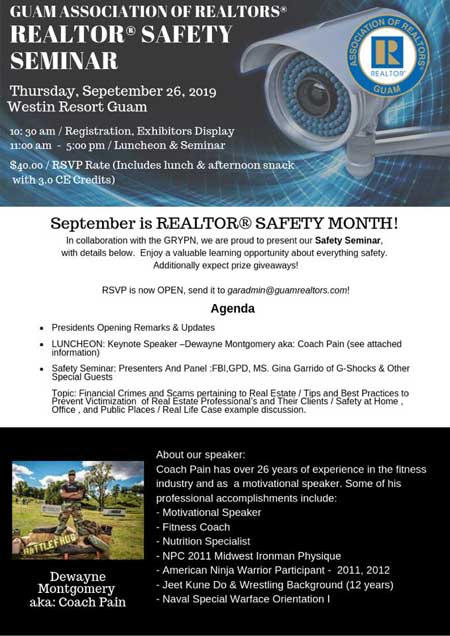 Hafa Adai Members!
Don't miss out on the REALTOR
®
Safety Conference scheduled for Thursday, September 26, 2019, at the Westin Resort Guam.
We are pleased to announce that our Keynote Speaker is Mr. Dwayne Montgomery aka Coach Pain, Fitness Coach, Motivational Speaker and Athlete.
All are members are highly encouraged to attend the Safety Conference and hear from Coach Pain as he delivers an exciting presentation focusing on Mental Toughness, Team Work, Self Resilience, Conducting Business with Ethics!
Additional highlights of the conference includes a Safety Seminar Panel featuring:
FBI representatives

GPD representatives

Ms. Gina Garrido, G- S.H.O.T.S and other special guests.
The panel segment will focus the following:
Financial Crimes and Scams pertaining to Real Estate

Tips and Best Practices to Prevent Victimization of Real Estate Professionals and their Clients.

Safety at Home, the Office, and Public Spaces

Real Life Case example discussion
So be sure to send your RSVPs via email:
garadmin@guamrealtors.com
, and treat yourself to an engaging and informative event! See you next
week Thursday, September 26th!