Guam Association of REALTORS®
REALTOR® Party
As part of the National Association of REALTORS®, America's largest and most influential trade association, GAR echoes the objectives of a bipartisan support, to credible and respectable candidates that forges on building strong communities, protecting property rights and advancing public policies that safeguards all the fundamentals that REALTORS® champion.
A Message from GAR
Dear Members,
November is here and we are well into the 4th quarter of 2020.
The 2020 local elections are over, and your association has been particularly active getting the voices of our over 500 members heard. Your RPAC dollars were put to work to get our unified message out on key initiatives and supporting candidates who will support these initiatives as well as other issues important to us. Not only did we launch an aggressive marketing campaign using RPAC funds, but GAR also joined forces with Action PAC to further solidify our efforts. I, along with our legislative committee chair, John Duenas, also made the rounds with the local radio stations to promote that.
The GAR legislative committee worked hard to set up a candidate forum with predetermined questions. From there, we established our list of candidates to support and sent our message out. GAR then launched a campaign to advertise candidates we wanted to support and 5 main initiatives important to our industry.
"YOUR VOTE IS YOUR VOICE" campaign was launched on all media platforms and aired up until the election. It was important to get the message out to encourage voting and I thank you all for exercising that right.
Out of the 16 candidates we supported, 9 have been successful in their bid for a senatorial seat in the Guam Legislature. Alternatively, out of the 5 initiatives, one has been signed into law. Our campaign has been a success, but our work is far from being over. RPAC will continue to be a main part of our work. The three main pillars of RPAC are to vote, act and invest. I ask and encourage all of us to do all three. This is your REALTOR® Party working hard for you.
Looking forward, your GAR leadership will continue to ensure that we have a seat as stakeholders for legislation that may be introduced. Our goal is to have a continued working relationship with our lawmakers and other island leaders to promote an effectively led Guam for our future. The pursuit of homeownership is inherent and we at the Guam Association of REALTORS® will continue to advocate a standard of excellence in real estate for our members and the island community.
Thank you.
Be safe and be well
 
Clare Delgado
2020 President, Guam Association of REALTORS®
Interviews with Candidates
LET YOUR VOICE BE HEARD, GUAM!
Your vote is your voice! The Guam association of realtors political action committee is a bipartisan group actively supporting candidates who will pass laws that protect the real estate industry and the community as a whole.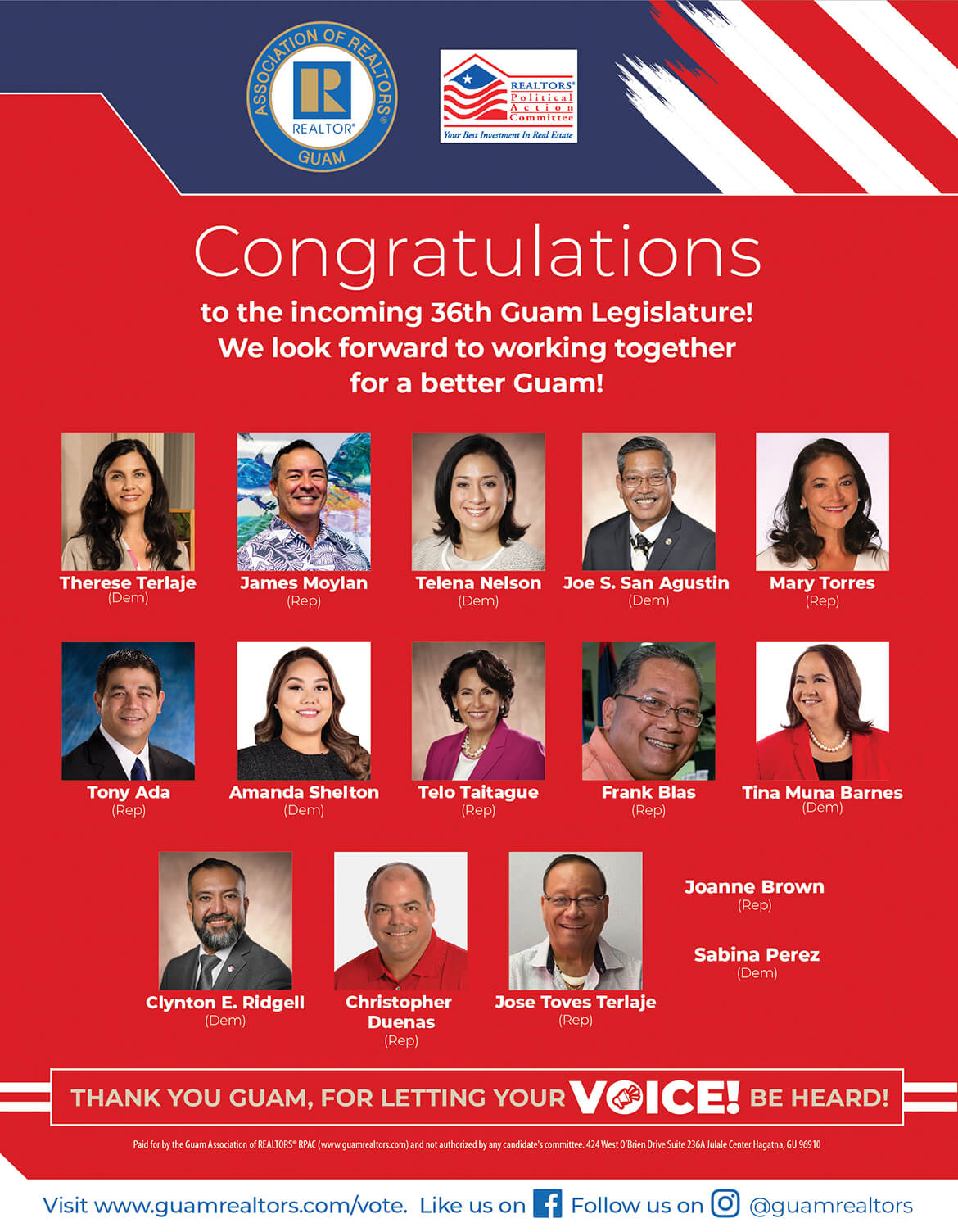 Q & As with Candidates
Click each candidate's name to view his/her responses.
Guam Association of REALTORS® RPAC
424 West O'Brien Drive Suite 236A Julale Center Hagatna, GU 96910
Paid for by the Guam Association of REALTORS® RPAC (www.guamrealtors.com) and not authorized by any candidate's committee.